Omnilux LED™
Not comparable to any other LED, Omnilux™ is a game changer for the health of our skin!
Light therapy is the use of light to stimulate a cellular response within our cells. Cells in the body contain receptors that absorb light naturally. When the body is exposed to different colours of light, these receptors absorb the light waves and kick-start a cellular response depending on the colour of light that is used.
4 x Omnilux LED Lounge Treatments
only $196
Limited number per month available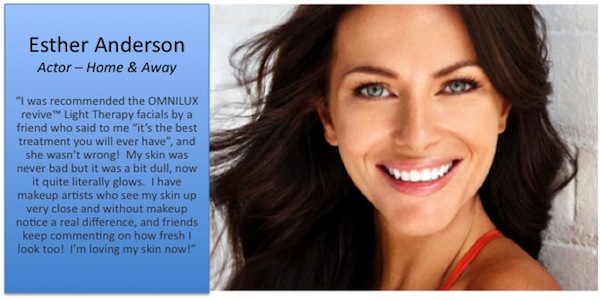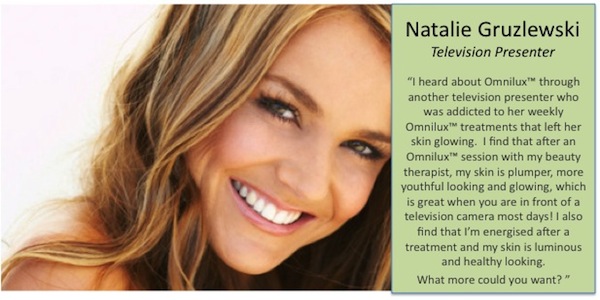 new
Omnilux LED Lounge Express Treatment
4 x treatments for $49 each
Allow 25 minutes. Omnilux LED Blue, Revive or Plus treatment sitting in our Omnilux Lounge. For optimum results all 4 treatments are required to be had within 1 calendar month of purchase.
Omnilux LED add-on to a facial
$80
Allow an extra 20 minutes. Add-on price for Omnilux LED Blue, Revive or Plus Treatment.
Omnilux LED Express Photo Facial
$130
Allow 30 minutes. Omnilux LED Blue, Revive or Plus treatment. Includes a mini customised facial, cleanse, serums & moisturiser.
Signature facial
Omnilux LED Photo Facial
$179
Allow 70 minutes. This facial reaches way deeper than the therapists hands can on their own and is excellent for acne, rosacea, skin rejuvenation and skin health. This treatment includes an Omnilux LED Blue, Revive or Plus treatment and a custom blended facial.
Prepaid course of 8 Omnilux LED Express Photo Facial
$690 (save $350)
A course of 8 Omnilux LED treatments are recommended for acne treatments. A combination of two treatments per week over a four week period. We alternate Omnilux LED Blue and Revive for the best results to combat acne.
Prepaid course of 9 Omnilux LED Express Photo Facial
$780 (save $390)
A course of 9 Omnilux LED treatments will achieve the best results for skin rejuvenation and anti-acing.
Omnilux LED Unlimited 12 Week Club
$99 per week
12 week club capped at 10 members at any given time. Have unlimited Omnilux LED, Blue, Revive or Plus treatments over the 12 week period*. Note optimum results come from at least 48 hours down time in-between treatments, so at club treatments must have at least 1 full day in between treatments. Therefore a club clients can have up to 3 LED sessions per week = up to only $33 per treatment! Treat this as a gym membership, the more you put in, the more you will get out of it! Club treatments cannot be booked until the morning of the appointment. Other Terms & Conditions apply.
Omnilux Prepaid Clubs
save $$
We offer an exclusive Omnilux LED prepaid club in which members receive Omnilux Express Facials at only $65. The minimum spend per month is only $130 (or 2 Omnilux LED Express Facials), however members can have as many pay as you go for $65. In addition to Omnilux sessions at the heavy, members are entitled to a range of member only benefits such as 10% off treatments, 10% off Jane iredale make-up and dermaviduals skin care and receive members only offers. This club is a must if you are serious about the health of your most important asset your skin. The price of a coffee a day is all it takes to start as a member in this club and depending on what you want or need to achieve the savings per year (value=results) are unlimited. T's and C's Apply. Places in our club are strictly limited and only become available when a club member leaves. If you are serious about skin health and anti-aging, speak to one of our therapists about the possibility of securing a place in the Omnilux LED club and a treatment plan that would best suit your skin needs.
Omnilux LED
Omnilux™ Light Therapy was developed after years of extensive medical research based on NASA LED technology.  Omnilux™ Light Emitting Diodes (LED's) are a natural, non-invasive and relaxing treatment that is suitable for the treatment of a wide range of dermatological conditions including acne, photo-damage, skin rejuvenation, wound healing, as well as depression, migraines and lots more. Omnilux is a quick 20 minute treatment that reaches where therapist's hands cannot reach. At CleanSkins Laser Clinic this treatment is used as a foundation to maintain healthy skin cell function for our clients.
Omnilux™ will to help reduce the appearance of the visible signs of skin ageing – minimise fine lines and wrinkles, boost collagen production and visibly improve your skin's appearance.
Effective
Suitable for most skin types
Non-invasive therapy
NO reported side effects
NO pain
NO downtime
Quick and simple
Promotes body's own natural healing response
Light therapy is the use of light to stimulate a cellular response within our cells. Cells in the body contain receptors that absorb light naturally. When the body is exposed to different colors of light, these receptors absorb the light waves and kick-start a cellular response depending on the color of light that is used. Different wavelengths of light and their color will stimulate different cellular responses within the cell. Omnilux™ stimulates cells athermally (no heat) without causing damage to the epidermis or dermal tissue, therefore there is no downtime or unwanted side effects like swelling, peeling or blistering.  Omnilux is a medical grade device that as over 40 academic papers published on it and its benefits, it has the approval of the FDA as well as the TGA.  Omnilux complements the body's own natural moisture renewal process to plump up the skin naturally. Also proven to accelerate wound & scar healing, it is ideal for post surgery recovery.  Three different wavelengths of light (White, Blue and Red) are used in combination therapy to stimulate different cellular responses.
Omnilux LED treatments achieve optimum long lasting results with a course of 7 to 8 treatments over a 3 to 4 week period followed up with monthly maintenance treatments.  When treating most skin conditions the course of treatments will include a combination of Omnilux Revive ™, Omnilux Blue ™ and/or Omnilux Plus ™.  Results will not be seen until 4 to 8 weeks after treatment, because the natural process of healing and rejuvenation stimulated by the light therapy continues to work for a length of time following the treatments.
As in life you get what you pay for when it comes to LED technology.  In clinic LED devices can be purchased from $10,000 up to the Omnilux at $50,000. The Omnilux has 40+ academic papers and clinically proven results.  No other LED can make that claim!  The Omnilux has many unique patented specifications so there is no other like Omnilux!
Clinical Studies & Papers:
Versitile Omnilux LED Enhances Cosmetic Results, Aesthetic Buyers Guide September/October 2006 – Roundtable_omnilux_oct
---

Omnilux revive™ (red light) acts to rejuvenate and repair damaged skin, improve uneven skin tone, reduce the appearance of fines line, wrinkles and rosacea.  Delivering precise wavelengths of visible red light that penetrate deep into the skin to where fibroblasts are stimulated boosting the production of collagen. The revive treatment also increases the hydration of the skin and improves the skin´s circulation. The benefits of this light are instantly felt by clients, it is also known as the 'happy lamp' as clinics use this color light to treat depression and SADs in countries like the UK and Northern Europe.
PHOTO REJUVENATION
more than 70% of clients respond with excellent results!
over 80% of subjects reported a softening of fine lines
75% of subjects reported improvement in skin softness and smoothness!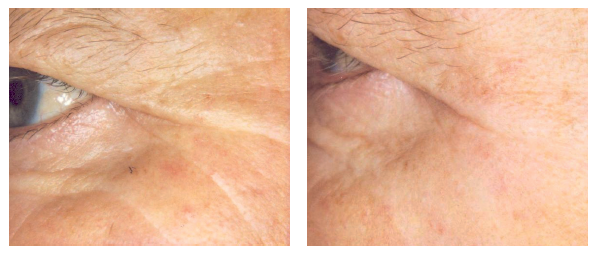 ---

Omnilux blue™ (blue light) is designed to deliver pure blue light at a precise wavelength.  Has been specifically developed to target the naturally occurring photo-sensitiser, Coproporphyrin III, found in P.acnes bacteria. Omnilux blue™ is the most potent blue light source in activating the target photo-sensitiser, producing singlet oxygen that leads to rapid eradication of the P.acnes bacteria. The Blue light is a successful acne treatment without the use of medication or painful invasive treatments. It is combined is combination with the revive light to help support the dermis and limit or minimise scarring or scar tissue. A great treatment for teenage and adult breakout prone skin.
ACNE TREATMENTS
Clinically proven to reduce acne lesions by up to 81%
more than 75% of clients responded with excellent results!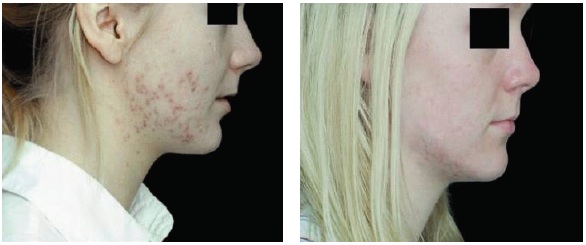 ---

Omnilux Plus™ (white light) has longer wavelengths than both the Omnilux Revive and the Omnilux Blue. With its main purpose to heal the skin, making it perfect for after cosmetic surgery procedures, burns, damaged skin and new scars.  Strongly absorbed within Fibro-myocytes promoting alignment and increased tone in the newly formed collagen bundles. The plus light works on strengthening the sub-cutaneous layer and supporting the dermis. The plus is used for wound healing and scar management, it is also combined with the revive light for anti-aging treatments. The effect of the Plus light leaves the skin fuller and tighter in appearance. Circulation is stimulated resulting in increased oxygenation and the removal of toxins and that all means a more glowing complexion, the skin more radiant.
In an independent study over 80% of subjects reported a softening of fine lines after treatment and 75% reported improvement in skin softness and smoothness.
The scientifically designed light source does not have harmful UVA or UVB. You will experience a feeling of relaxation and well-being during and after the treatment. The treatment is absolutely pain free, there are no injections involved and there is no patient downtime. The majority of clients have found the treatment relaxing.
Omnilux Revive can be a single treatment or a course of treatments. A typical course is usually seven to nine treatments, however a course of nine is recommended for those concerned with fine lines, wrinkles and uneven skin tone.
Your first treatment will take approximately 1 hour. During that time you will undergo a comprehensive analysis of the skin as well as administration of the first light therapy treatment. Each light treatment session will take 20 minutes. Typical schedules for patients are three treatments over 3-week period.
There is no need for recovery time, and makeup can be re-applied immediately after treatment.
This depends upon the treatment options used. The initial effects you will see are a clearer, brighter and smoother complexion. After the course of treatments have finished you will still see an improvement in tone, clarity and skin smoothness. You will also see softening of your fine lines and wrinkles.
This will vary according to skin type and lifestyle and whether you have combined Omnilux™ with other treatments. However, when you have completed your course, it is usually recommended that you have one maintenance treatment on a 4-6 week basis, as this will prolong the results.
This is a very effective treatment for both men and women of any age. It is non-invasive and easy to perform